From 9th till 12th April 2018 in training centre Lešť a profesional workshop took place oriented on the topic "active shooter" The seminar was combined with practical training in cooperation with our Cech partners and friends from Proarms training under the leadership of expierienced instructor Jiři Basl.
This seminar was attended by Police forces of the Slovak Republic as well as Armed Forces of the Slovak Republic and that: Unit of special assigment (Lynx comando), PPU Prešov, NAKA (National Criminal Agency)Training unit of police Forces Ministry of interiour of The Slovak Republic,5th Regiment of Special Asigment Žilina), Slovak Armed Forces and instructors of special unit Training centre CV Lešť.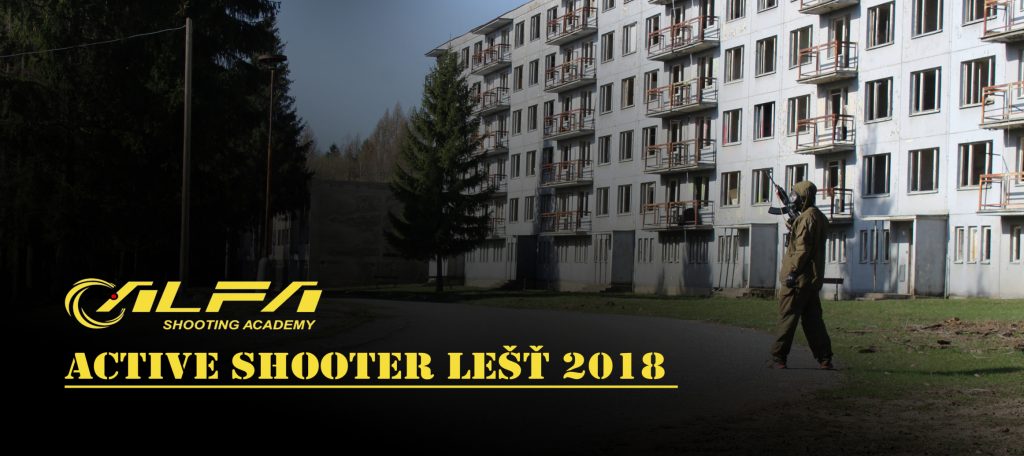 The possibility of crisis situations in face of "active shooter" is in the world not just a threat, but unfortunately the reality of theese days.Speed, profesionalism and training of the armed forces and state forces are factors, which can significantly decrease the consequances of such a situations.This is the reason we tried to suply the participants with whole and complex picture of the issue "active shooter" as well as the newest procedures and trends in the world, which are applied as a solution of theese crisis situations.
Participants of the seminar apart of the theoretical part, which lasted one entire day have attended mainly practical trainings in form of model situations.Theese trainings were focused to find the shooter  in complaince with tactical procedures (search mode) and his following disposal (contact mode). In search for the shooter and investigating objects and arreas emphasis was placed on the progress of two member groups , which if the circumstances allowed it could been deployed in greater number of interferees and so merge into 3 or up to 4 member groups. It is necessary to realise that in case of "active shooter" situation procedure itself is carried out by first contact patrols. Till the special units are let known and manage to get there it is ussualy too late… Therefore it is extremely important to pay attention to the training, equipment and armament of the first contact patrols.  Here we have to unfortunately say, that the Slovakian police can just modestly envy their Czech coleagues.
Great significanse was given apart from searching through the risky objects or area and the elimination of the shooter to the leading part itself and all that is related to it. In model situations participants exchanged their positions as persons in charge so they could try for themself the seriousness of this part.The ones in charge needs to reconcile and coordinate not only an act of interferance against an attacker but also rescue units and firefighters in providing assistance – help to the wounded and following evacuation if circumstances are allowing it.
To participants of the seminar were detaily explained the newest trend in the world and that is deploying so called " Attack Team".Theese 3 member groups dressed in civilian clothes are deployed on places with higher concentration of people (sport, cultural, social events) where is real threat of an active shooter.  Theese groups are deployed directly in crowds and in case of real threat they manage to handle it quickly and specially effectively take action against an attacker(s) armed not just with shooting weapons but also against the ones who use a vehicle for their attack.
On the final day big model situation was simulated where in a housing estate an attack was made by 3 attackers armed with semi-automatic rifles. Similar situation happened in Devínska nová Ves in 2010 just with the difference that in this model situation instead of one shooter they had to deal with up to 3 attackers. After the first patrols arrived shooters ran to different objects which were represented by big panel flats.Even this didn't make it any easier to intervene in profesional manners. Rated were – the activity from the arrival of the patrols on the place of crissis, capturing a position outside of the attackers fire range, leading and coordination intervening groups by the person in charge, coordination and comunication between the intervening groups, tactical procedures as they were approaching the objects and motion in the object till eliminating the shooters.During this intervention we simulated different real situations which could happen for example injured officers and activities related to it.
The intensity of this training is testified too by the munition which was used during those two and half days where the whole time model situations were trained and evaluated. More than 1000 pieces of FX simunition were fired.Without this munition it is impossible to train real model situation and to train the armed units.
At the end I would like to say thanks to all participants for professional approach during the entire seminar, to CV Lešť which provided us with the best training areas that today exists in Slovakia as well as for their material help.Thanks belongs also to external instructors of Shooting Academy Alfa who during the whole time of the seminar played the roles of the attackers and at the end were considerably "shot through". And my personal and biggest thanks belongs to rtm. Ľuboš Rohoň